text.skipToContent
text.skipToNavigation
Request overview commercial conditions
We offer you a wide choice of more than 1 million articles, divided over more than 15,000 discount groups. Of course, with such an extensive range, you need a clear overview of all commercial conditions we offer you. And you can request it here.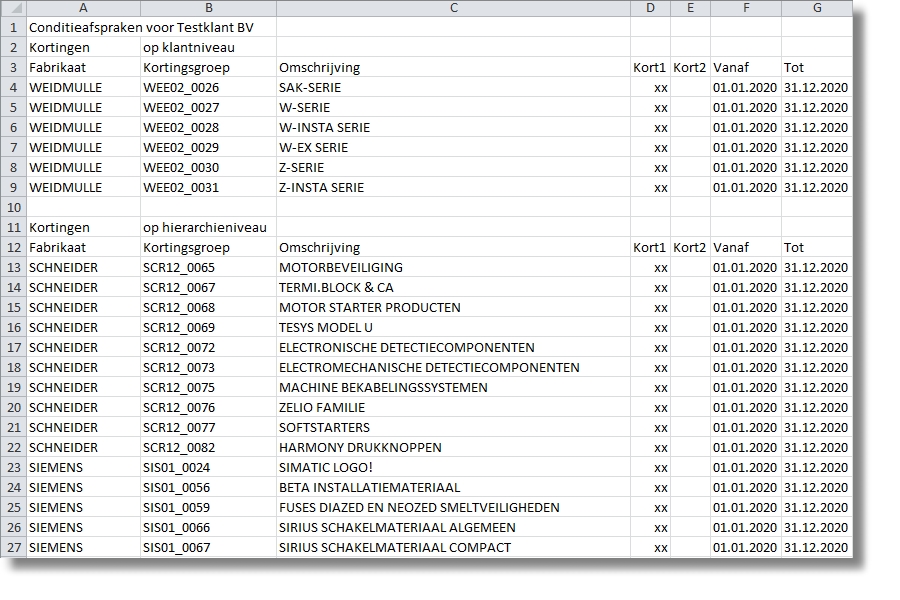 ​​​​​​​You will then receive an overview from us in the format you select. The overview contains discounts per discount group and possibly applicable customer-specific gross or net prices on specific products. Discount groups are always provided with and sorted by brand. You will also find a clear description per discount group in the overview, so that you know what we are talking about. Finally, we always state the period of validity for each condition.
Conditions can be determined in consultation with you at the level of the client (customer) or - if you are part of a group with a group contract, for example - at group level (customer hierarchy).
​​​​​​​To request your overview, please fill in the form below. If you don't see a form, you're not logged in. Then please log in
here
first and then fill in the application.
​​​​​​​Have you not yet registered on our platform? Then please do so
here
. You will receive an activation link, set your password and then take advantage of the many benefits that our platform offers you, including of course requesting your commercial conditions.
In the form you indicate:
• For which date you want to request the applicable conditions
• The selection of condition types you want to receive (all, only gross prices, only net prices or only discounts)
• The file format in which you want to receive the overview (xls, icc or pdf)
​​​​​​​Should you have any questions about filling in the form, please contact us by clicking the button at the bottom of this page.
You might also be interested in this:
OCI punchout
Searching, finding and selecting products online can be a time consuming process. What's the inventory status of a product? Are the price arrangements up-to-date? And what is the delivery time? Without real-time insight product maintenance takes an unnecessarily long time. And that while you would rather focus on your core business.
Read further
EDI connection
International competition keeps every machine manufacturer on their toes. Including the purchasing department, where efficiency makes a difference, now more than ever before. Take for example the input of an order line: a one-minute task, but repeated tens of thousands of times on a yearly basis it turns into a significant cost item. Does this happen in your company? Ask us about an EDI coupling. You convert minutes into seconds and benefit time and time again.
Read further
You are probably also interested in these product groups:
Explore our competences, services and solutions for your success: